Rollerblading Sydney Tours (on-hold for Winter)
---
N.B. In-person lessons (and tours) are on hold (as of Wednesday 16 JUNE 2021) until mid-August
(unless you own all gear and wish to book a ZOOM rollerblading lesson to be held before Monday 12 July 2021).

Send us an online booking request HERE and a text message
(or click here for ZOOM lesson information) to be advised about availability.
RollerbladingSydney.com.au has run tours across the famous Sydney Harbour Bridge and beyond since 1999!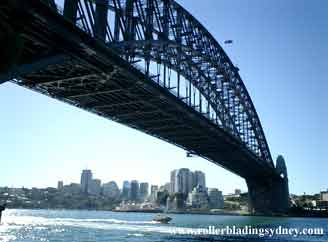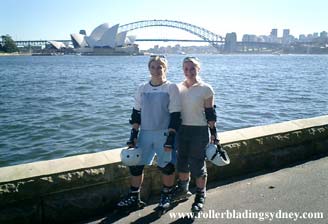 In order to take a tour you need to be a competent rollerblader / rollerskater who is able to turn and stop comfortably down hills. In order to book a tour visit SMS bookings. Your tour experience will include digital photos and we are sure you will love seeing the Harbour Bridge and Observatory Hill on skates with your experienced guide. Our tours start from Milsons Point where we reserve the right to substitute the tour with a lesson if it is deemed that either the weather is inclement or your ability to stop safely on hills is insufficient to do the tour. NB: Lessons are just as much fun and our Milsons Point location has a backdrop of the Sydney Harbour Bridge. We'll also offer discounted skate hire (post lesson) to participants in the event that we need to cancel your tour due to weather / fitness / ability.